Complete Serenity by Jim Hansel Rustic Lake Cabin Boat Dock Geese Canvas 16x24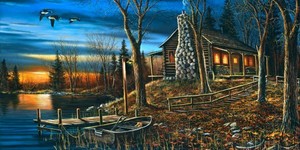 ---
No Reasonable Offer Refused!
Prices Includes, Shipping, Handling, Insurance & our 100% Money Back Guarantee!
***********************************************************
Completer Serinity by Jim Hansel
16 x 24 Limited Edition of 248 On Stretched Canvas Giclee
Giclee and Canvas products are made to order and usually ship within 10 Business days. However during higher order flow periods we occasionally need an additional few days.
We have several images both Limited Edition and Open Edition by this artist including a number of selections framed and read to hang in our Store. Click on the stores logo  and search on Hansel.
You may see this item advertised for less money unstretched elsewhere, but we sell it FULLY STRETCHED.  Make sure you take that into consideration when comparison shopping. Also make sure you understand that stretching Canvas Giclees is a more delicate procedure then stretching canvas transfers or oil painting and is not recommended for do it yourself unless you have experience.
***********************************************************
Jim Hansel is a very talented artist who has achieved success by overcoming special challenges to create his beautiful paintings. At a young age, Hansel demonstrated his artistic ability; throughout his life, he never swayed from his dream of becoming an artist. As long as the artist can recall, his love of wildlife and the outdoors have inspired his work so he may share his vision of nature's wonders.
The world Hansel paints is not always the world he sees. At the age of twelve, he was diagnosed with a degenerative eye condition, which has left him legally blind. Mastering his visual limitations, he has learned to create beautifully-detailed images with magnification and low-vision aids. Working only one or two inches away from the canvas, Hansel painstakingly paints in the details of a work, while forming in his mind a clear picture of the finished painting.
Hansel also relies on his camera to capture his ideas and bring them into focus. He uses photographs to bring the landscapes and the wildlife models back to his studio. At this stage of starting a painting, he enlarges the photographs, if necessary, to see them more clearly. Amazingly, the artist then gazes through his glasses and commences his first brush strokes as his painting comes to life a few square inches at a time. Hansel's visual challenges require him to spend more time on a painting adding his details than many artists….sometimes working four months on a single canvas.
Hansel wants his artwork to be judged on its own merit, not on the basis of an artist with a visual impairment. This determination and being blessed with a talent to create his outstanding images have brought him national recognition. Since his first print release in 1987, he has produced nearly 100 limited editions, and many have sold out. The artist's attention to detail and distinctive, colorful landscapes are very popular with art collectors nationwide.
Hansel credits his wife, Lois, his most ardent supporter, with much of the success of his art. Since their marriage, Lois has been involved in the production of the artist's prints to ensure the highest possible quality. Their family also includes two children, Joe and Laura.
Hansel has received national recognition and numerous awards for his wonderful art. He has been commissioned to create several paintings for Ducks Unlimited, Pheasants Forever, and the Minnesota Deer Hunters Association. His limited edition prints are successful fundraisers for various conservation organizations. Hansel also has been honored with many other awards throughout his career. 
Jim Hansel's art and his success are living testimony to the rewards of hard work and perseverance regardless of life's challenges.